Yes, it is a stretch and yes, Google's changing map features will rank among the lesser of their evils. We can still shake our heads at the gradual decline of a landmark service, especially in light of a huge user outcry.
Google's mapping service started out clean, crisp, and fast. Mapquest and other providers were left in the dust. Paper map sellers took a beating. When traffic and routing came along, it was a boon to drivers in the traffic hell that is Los Angeles. The frosting on this cake was incorporating historical data into the algorithm. If you get directions as you are heading out the door, good luck. Google maps allowed one to pick a day and time, see some average of traffic patterns, and get an estimated trip travel time.
For over a year, Google has been test driving its new maps interface and notionally soliciting feedback. Fortunately, the older 'Classic' interface was selectable and very, very popular. That's out the window now. Google has announced that Classic maps will be going away and we're going to have to get used to the new release pessimized equally for tablets, phones, and browsers. It takes talent to bugger something up this badly and to its credit, Google can recruit and channel that talent. To what end? Who knows?
Here's a Classic Map, made today for a hypothetical Monday afternoon drive to Pasadena from Redondo Beach.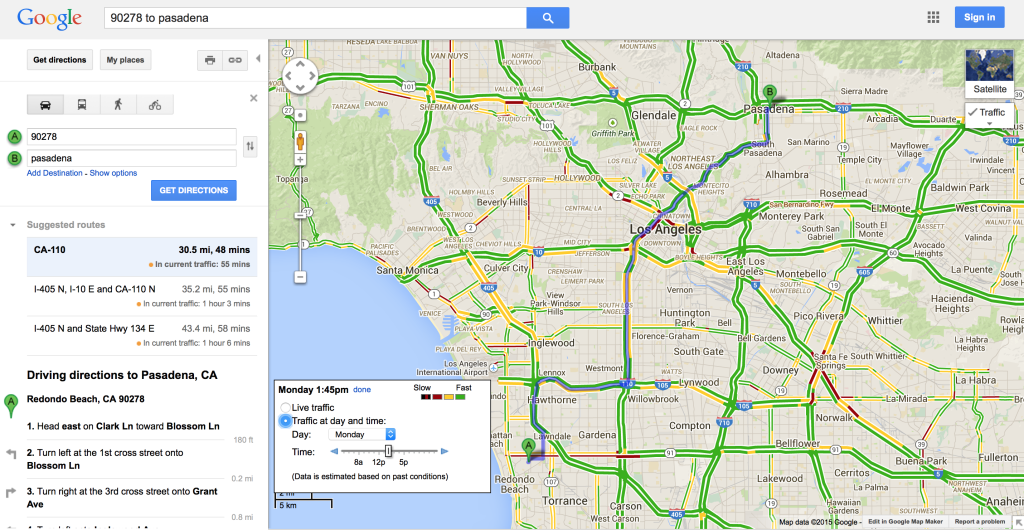 Traffic for the greater LA Basin still shows. This is incredibly helpful. The blue route line is lightly overlaid over the traffic indicators. Directions are on the left, there are several items in the right-click context menu.
Here's the 'new and improved' version.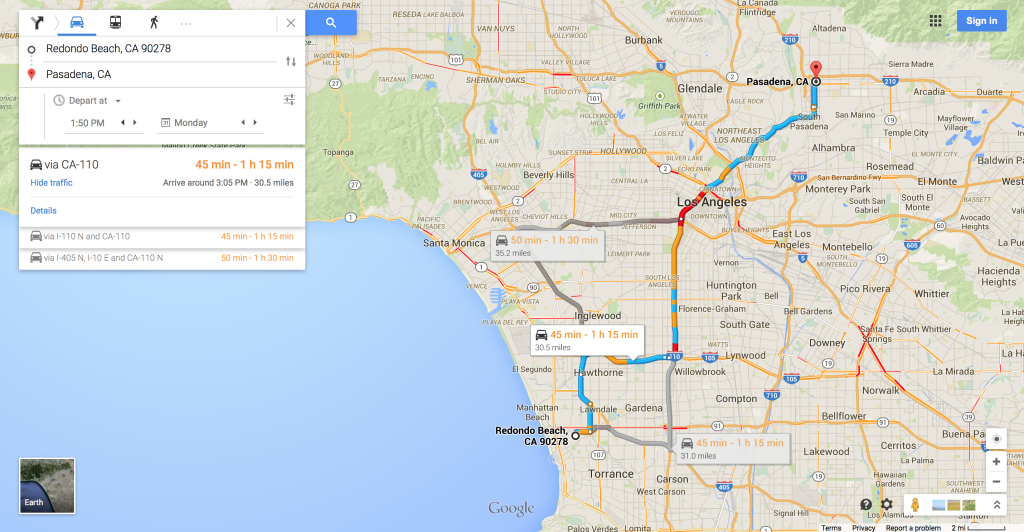 Only the route is clear and then again with blocky, ugly elements. The rest of the traffic for the Basin is almost invisible except for a few light red lines where things are particularly bad. One has to explicitly hide a bottom bar full of irrelevant photos and recommendations and the left side of the screen is taken up by boxes that roll up and down like a cheap dorm shutter. Ad dollars must be driving this (pun intended) and it is a shame.
And, yes, this is a first world problem. But what's galling is the snotty response to users screaming bloody murder on the Google Forums and asking for the Classic Maps to be left as a option. True to 21st century form, a 20-something Community Manager tells us 'Change is difficult' but that it is all for our own good. She doesn't say much to users with specific and well-reasoned arguments except that they are taking suggestions.
Interestingly, competing map tools are staying away from providing the all-important traffic forecasting based on historical data. One wonders why and hopes that they add this capability in short order.