I ordered the ash for this workbench nearly five years ago and squared up enough of it to make a top. Then a series of curveballs beginning with the illness and passing of my father kept me away from woodworking until last summer. I resumed taking Sunday classes at Cerritos College and had to relearn just about every power tool skill through the class's Shaker End Table project. I wanted to finish the bench – a hybrid of designs from Chris Schwarz's book  and Benchcrafted's plans. It started life as a split-top with plans for leg and end vises and wound up as a solid top, leg vise only, using any and all means to make the parts fit. It finally came together last week enough to call it done.   Scientists and engineers should continuously remind themselves what it actually takes to go from lines on a page to hardware on the dock.
The woodworking program at Cerritos College is a treasure. The facility is packed with high quality, well-maintained jointers, table saws, planers, sanders, bandsaws, and routers with copious dust collection. Each of these has the accessories from push sticks and sleds to full in- and outfeed tables. Power tools are not as easy as they look and it helps to be able to focus on building the technique to surface lumber well enough to get to joinery. Which, by the way, is even trickier than it looks in the videos. The school also provides for the hand-tool enthusiasts with a large collection from Stanley to Lie-Nielsen and Veritas. If that weren't enough, there are assembly tables, a finishing shed, sharpening stations, and clamps, clamps, clamps. There can be no such thing as too many clamps.  I won't get into the CAD/CAM tools for the  students in the degree program but suffice it to say that there are many of them and they are impressive.
Ultimately, the teaching and camaraderie trumps everything. I've been taking classes through the Community Education program which permits hobbyists access without impacting those studying for a formal certificate. The instructors are first-rate and support everyone from the absolute novice to the veteran with whatever help may be required. This bench was frankly well beyond my abilities and I ignored the staff's recommendations to build back up to it through a couple of intermediate projects.  But, having gotten it going, it had to get done. Schlepping large boards, larger assemblies, and making huge joinery is not a one-man job and I had tremendous help from teachers and fellow students alike.  In the end, it took about thirty Sundays to recover from an almost endless series of mistakes, get it together, and get it home. Now, the task is to step back and re-learn for the first time how to use hand tools. My garage can't accommodate all the powered hardware nor would the neighbors be pleased if I tried!
My sincere thanks go to the gents below for their guidance and help and below them is a selection of snaps of the bench, itself.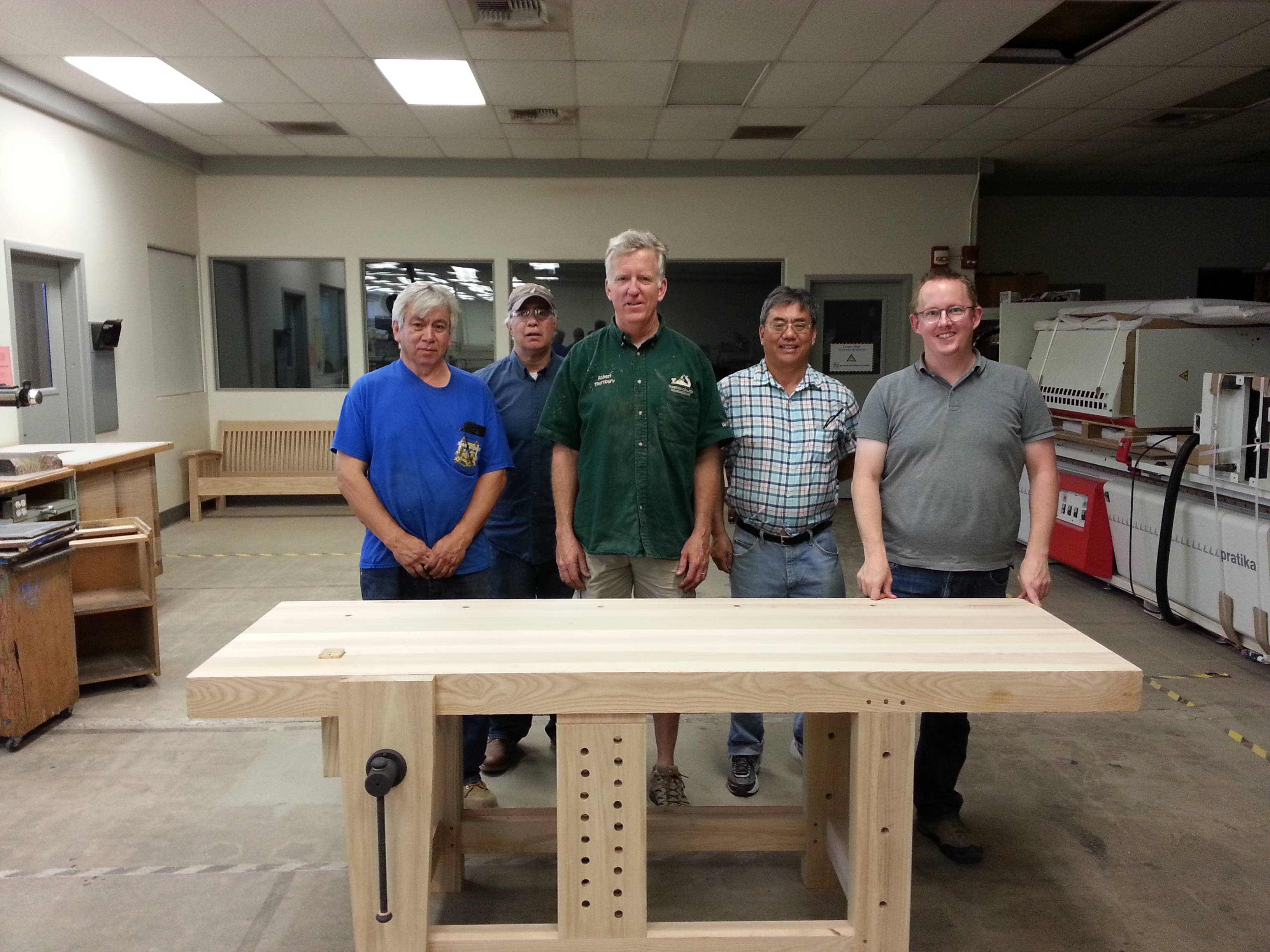 From left to right: Instructors Adrian Miranda, Tony Gutierrez, and Robert Thornbury and students Mike Matsunaga and James Farrell
Roubo-inspired workbench.  88″ long x 26″ wide x 33″ high.  Ash supplied by  Horizon Wood Products of Pennsylvania